THE CHOICE IS YOURS
We're not JUST a Guest House! Kembali Lagi Guest House and Villas offer a variety of outstanding accommodation options. The Guest House is an award winning Bed & Breakfast offering 7 private en suite double rooms and a 2 bedroom family suite all surrounding a perfect pool. We also offer 2 private pool villas just steps away from the Guest House.
Situated in the heart of Sanur's beachside community, each of our properties is an easy stroll from shops, cafes, spas and the famous Sanur beach.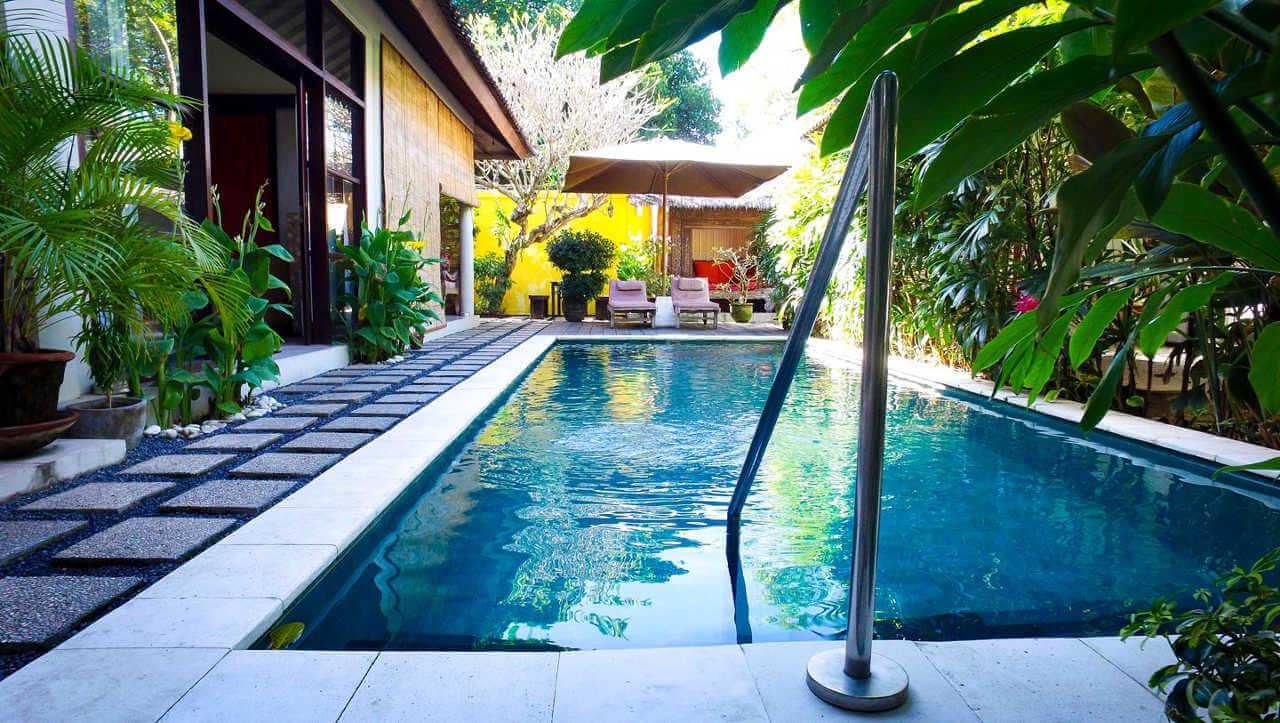 WHY CHOOSE US?
Kembali Lagi means "Return Again" in Bahasa Indonesia. It is our philosophy to treat each and every guest as though they were a guest in our home. Here are a few reasons why our guests keep returning to Kembali Lagi:
AFFORDABLE LUXURY
Premium Furnishings, Bedding and Amenities Normally Found in 4-5 Star Hotels (Our Guests Frequently Ask to Buy Our Pillows)
Pool at Your Doorstep
Excellent WiFi
Free Breakfast at B&B
OUTSTANDING PERSONALIZED
SERVICE
Professional Concierge Service for Reservations at Restaurants, Spas or Just Take Out/Delivery
Airport Transportation
24 Hour Check In
Customized Tours and Excursions
Boat Tickets to Neighboring Islands
And so much more!
Our Home In Bali
Deke T
We were told about this place by a fellow traveler while visiting Lembongan in 2017. We stayed two nights at the end of a 3 week journey before heading back home to the United States. We loved it so much that it has become our base when we returned to the region this year. We love everything about it. It's charming, clean, comfortable, safe and the location is perfect. We often walk to the main strip 3 or 4 times a day. Not too far away but far enough to be removed from the noise. Probably the best part of Kembali Lagi is the staff. So friendly, so helpful, so incredibly kind. We love them all. Sanur in general is a good place to be if you plan on island hopping. There is easy access to the harbor for ferries and fast boats and to DPS airport. Sanur is also much less chaotic than many other parts of Denpasar. If you're going to stay here then Kembali Lagi is an excellent choice.
Finding the Lost Art of EXCELLENT Customer Service!!
Bret W
The Inn itself is super clean, well appointed and just plain Beautiful. BUT, it is the "Customer comes first and is always right" attitude of the Owners and Staff that is SO impressive and refreshing!! Location is quiet yet close to everything in Sanur. 5 minute walk to the beach. I went for a day tour arranged by the Staff and went to a Bali Village, Butterfly Park, Coffee/Luwak Roaster and wood Carving center! Great Stuff!
Lovely guest house
Matkustaja Nizza - Helsinki, Finland
Kembai Lagi Guest House is a beautiful, small guest house 15 minutes walk from Sanur beach and the restaurants. Good value for the money, rooms are quite spacy and decoration is beautiful. Friendly staff and nice breakfast!
Charming!
RedRaidAdventure's - Cambodia
We are a couple and we really appreciated the hospitality and professionalism of the staff. The standard rooms are quite small so you will prefer a Superior room that is perfect! Nice little quiet place with garden and pool. Super breakfast. Very much recommended.
ACCOMMODATION
Our accommodations consist of an award winning Bed & Breakfast, a Private 4 bedroom villa and a stunning 2 bedroom Cottage with private pool. View our properties to find out why we are the winner of TripAdvisor Traveler's Choice Awards 2015, 2016, 2017, 2018, 2019, 2020, 2021, 2022, and 2023!
VILLA INDAH LAGI
Located just down the street from Kembali Lagi Guest House, this beautifully renovated villa consists of 4 spacious en suite bedrooms and features a full modern kitchen, private pool, verandas and media lounge. Your dedicated staff will spoil you daily with housekeeping and delicious meals.
LET US HELP YOU ORGANIZE YOUR DAYS
We are happy to arrange transportation, either to/from the airport or around Bali in a private car with driver or even boat trips to neighboring islands! Let us help plan your days with excellent recommendations for spas, diving, beaches, tours and attractions (many with discounts).
We take pride in providing
above and beyond services that truly
gives our guests the holiday they deserve

OUR LOCATION
Don't hesitate to use the form below to get in touch with us.
KEMBALI LAGI GUEST HOUSE & VILLAS