If you're reading this, chances are you're deciding between staying at a Villa or a Guest House on your next trip to Bali. While both are excellent choices, they do offer a slightly different ambiance and experience.
In this article, you'll learn about the differences of staying in both a villa and a guest house on your holiday trip to Bali. By the end of the article hopefully, you'll have an insight into which one suits your needs best.
Differences between Villa and Guest House
Before deciding between a villa or guest house for your accommodation in Sanur, it's important to know the difference between the two.
A villa refers to an exclusive private residence or home that is rented to guests. This means that all aspects of the property are reserved to be used privately by guests including all bedrooms, living rooms, kitchen, dining rooms, gardens, pools, and more. Our villas also have a dedicated staff to cater to the needs of our guests.
A guest house refers to an accommodation with its own bedroom, bathroom and smaller living space, usually limited to the patio or balcony. Certain facilities in a guest house may be shared with other inhabitants in the same rental period, such as the pool and garden. Though there are some guest houses that include private facilities such as a dining area, verandah, or pool.
Kembali Lagi Guest House
Here at Kembali Lagi we offer 8 beautifully designed, award-winning guest house rooms available to rent. Room types range from intimate deluxe rooms, to spacious family suites.
Our list of amenities include individual air conditioning units, warm rain head showers, complimentary breakfast, high speed Internet, pool access and super cozy beds for you and your family. Guests of our Family Suite in particular enjoy the luxury and comfort of a two-story house with all the amenities we listed above for the utmost space and privacy.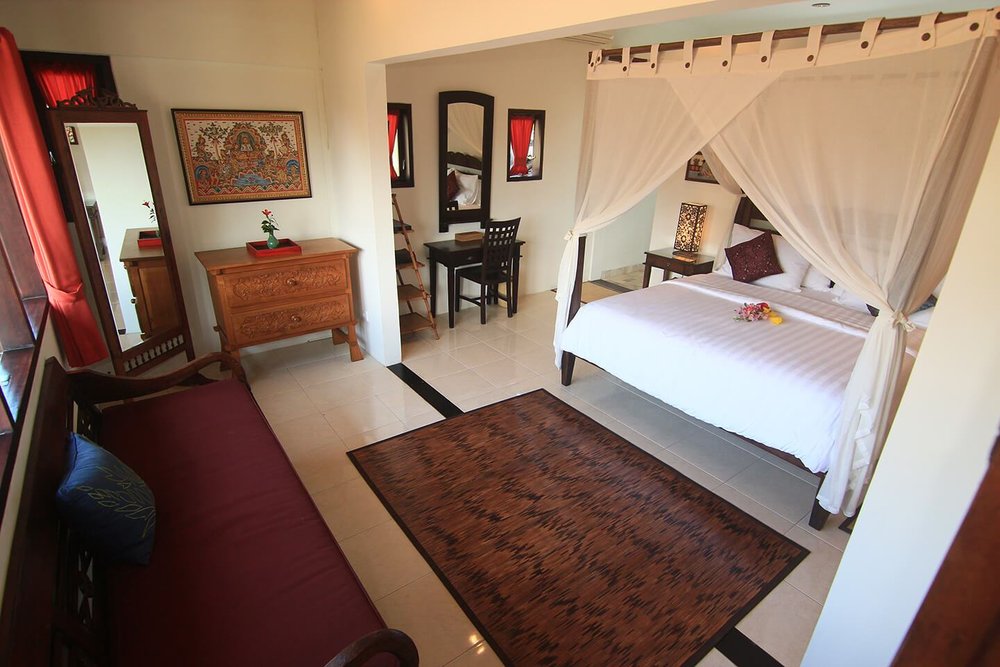 Kembali Lagi Villas
Villas are reserved for guests who value privacy, seclusion, and personal space for their family or group of friends. Our villa options at Kembali Lagi include two award-winning villa properties and a private cottage.
Guests of our villas enjoy complete, all-inclusive facilities within the property such as private pool access, tropical gardens, spacious living and dining area, and verandahs to enjoy those precious moments with the loved ones.
Choosing between a Villa and Guest House
Both villas and guest houses are excellent accommodation options for your retreat to Bali. They offer distinct benefits over staying at a hotel or resort such as the overall privacy, peaceful ambiance and the sense of a home away from home.
Deciding between the two will ultimately depend on your personal needs and preference. If you're traveling with just your significant other, or a small group of friends, then perhaps a guest house will do just fine. Those traveling with larger groups, who are looking for the absolute comfort, space and privacy will want to opt for the villas instead.
Feel free to drop us any questions, concerns or inquiries you may have about our villas and guest houses at Kembali Lagi!
An additional note regarding the post-COVID 19 situation in Bali, we are implementing strict safety protocols to ensure our guests feel safe and clean during their stay in our properties. Measures include masks on all staff members, daily cleaning and sanitizing, and the optional delivery of food to our guests. Our staff are also available on standby should you have any special requests.

We look forward to greeting you at Kembali Lagi. Book with us today!