Have you heard of Matahari Terbit Beach? Just like its name, Matahari Terbit Beach, or Sunrise Beach, is the ideal spot to enjoy soothing Sanur sunrises.
To get there, it takes around 25 minutes from Ngurah Rai International Airport and around 5 minutes from Denpasar City. This beach has easy access and reaches many tourist places including Badung Traditional Market, Bajra Sandhi Monument, Art Center and Bali Museum to name a few. If you are not sure of its location, just ask the locals as this beach is pretty famous in the area.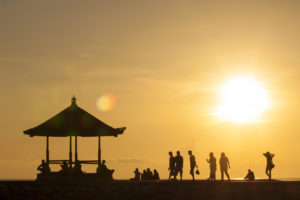 Photo Source: Pandu Adnyana Photography Tour
Although lacking in sandy shores, the nearby Sanur Beach is just a 5 minute stroll away and has a beautiful white sand beach that offers a panoramic view of one of the best sunrises on the island. Wake up early and catch the sunrise, featuring incredible scenery of the Nusa islands and a silhouette of Mount Agung.
If you want to find a relaxing family spot, this is the place to be. Its waves are known to be calm, making it suitable for all ages to swim. For surfers, you can also find a great surfing spot right in the middle of the ocean. Take a local boat and you will arrive at the shore break where you will have a fascinating surfing adventure! However, this surfing spot is recommended for intermediate to professional surfers. Try surfing here during the wet season to get the best experience, since during this season, the wind flows from the southwest to the east, creating the ideal waves for surfers. If you want to explore more, you can also access other famous spots such as Biaung, Keramas, Padang Galak, Sindu and Mertasari from this beach.
Want to get the most of Matahari Terbit Beach? Why not stay here instead? Book Villa Matahari Terbit at Kembali Lagi, all to yourself, and enjoy being steps away from the beach.