Finding a place to stay for the family has always been one of the deciding factors when traveling. Common factors to take into consideration when choosing an accommodation are the location, interior layout, amenities, in-house facilities, and budget, just to name a few.
Oftentimes we have to compromise one or more factors in favor of another, such as compromising comfort, in favor of staying within budget. Well, what if we told you that you don't have to?
In this article we'll be taking a closer look at the villas at Kembali Lagi, and why they are the best private villas in Sanur, Bali!
Villa Matahari Terbit
Villa Matahari Terbit blends elements of both Western comfort and exquisite Balinese ambiance. The villa features designer interior fixtures and bedding, rain head showers, high ceilings, modern connectivity and facilities, as well as a private garden and pool for your family.
The gourmet kitchen, spacious living area and three en-suite bedrooms makes this the perfect private villa for a retreat with your family or group of friends. In-house guests at Villa Matahari Terbit also enjoy the luxury of being able to walk right up to catch the sunrise at Sanur Beach, and soak in the local culture.
Villa Indah Lagi
Located in the heart of the Sanur beachside area, Villa Indah Lagi is our largest villa featuring four en-suite bedrooms to house up to 8 persons comfortably (just let us know if you need additional beds for guests or kids).
The two-story villa blends contemporary design accented with tasteful Balinese décor and elements to make you feel right at home in Bali. Amenities include a full modern kitchen for your cooking needs, a media lounge with modern connectivity, private garden and pool, and also two verandahs on the second floor for the perfect setting to have your cup of coffee or evening sunset cocktails.
Villa Indah Lagi is also within minutes of walking distance to the boutique cafés, shops and restaurants in Sanur should you want to explore the area on foot. Alternatively, we can also set up a motorbike or car rental with a driver upon your request.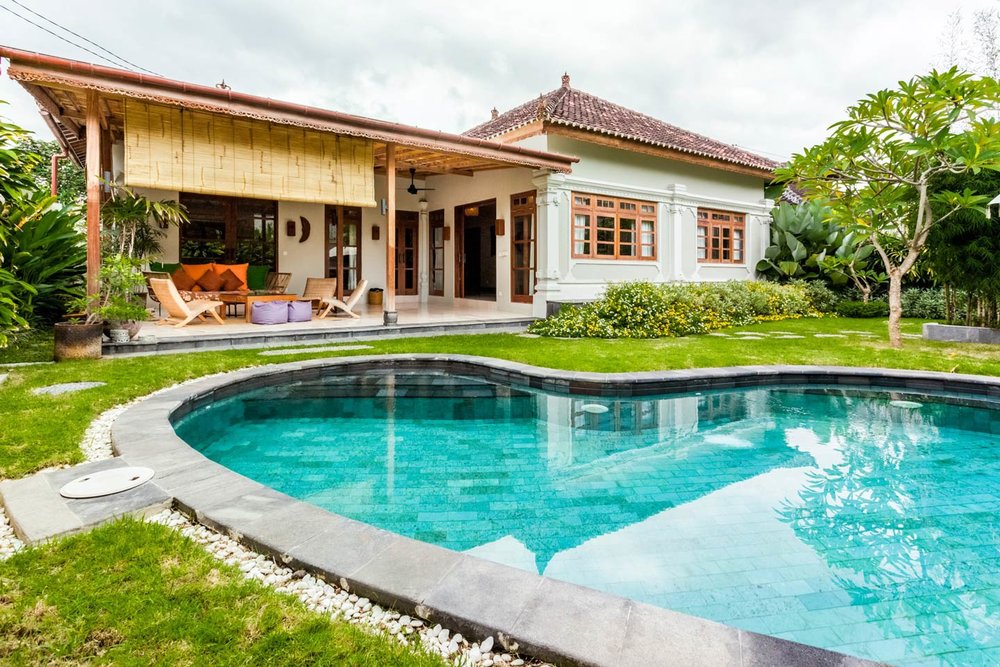 Staying at Kembali Lagi
We take pride in the hospitality and concierge services that we offer to our guests here at Kembali Lagi Guest House & Villas. In addition to the variety of outstanding accommodation options, we take it upon ourselves to provide a bespoke personal service to cater to our guests needs.
In keeping up with the latest precautions pertaining post-COVID 19 situations, we have made it our priority to ensure the hygiene and safety of our villas and guest houses at Kembali Lagi.
We've taken precautions and enforced measures to ensure our guests are safe and sound during their stay with us in Bali. Learn more by visiting our website.
We look forward to seeing you soon! Book your private villa with Kembali Lagi!