It began with the desire to discover the various craftsmanship deriving from the vast cultures in Indonesia. Mrs. Terry Wijaya Supit, Founder of Galeri Wastraku, began her private collection of Indonesian textiles and jewelry which then is exhibited by the creation of Galeri Wastraku, a gallery curated by Mrs. Supit's daughter, Ms. Brina Paska.
Galeri Wastraku is a gallery established to exhibit textiles with profound meanings that can distinct one Indonesian culture from another. The purpose of this gallery is to highlight the significance of cultural preservation and its authenticity especially towards the younger generation.
The launch of the gallery began with an exhibition of woven textiles and traditional jewelry from Eastern Sumba. This Volume 1 collection is titled "La Tana Humba" which means the land of East Sumba. This collection was launched on the 18th of February and will be open for public viewing until the 30th of April. The theme of the gallery will then be altered every few months and will display textiles and jewelry from different cultures in Indonesia.
In this collection, you will be able to see textiles from Eastern Sumba villages such as Rende, Kambera, Prailiu, Haumara, Kanatang, Kalu and Kaliuda. Most of the textiles are naturally dyed and one big textile can take up to eight months to finish.
The gallery provides an in depth explanation on how these textiles are created from the process of natural dye to weaving demonstrations.
They hold workshops to demonstrate the process of weaving and natural dye using various materials from indigo leaves for blue, noni roots for red, mud for black and turmeric for yellow.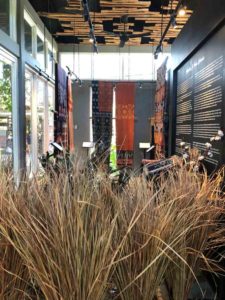 Recently, I had the pleasure of visiting the gallery while they held a weaving demonstration workshop along with a presentation on the different meanings behind every motive and symbol and how it conveys different stories. Having done so, the beauty of these textiles escalated in my eyes for there is hardship and meaning behind every single one of them.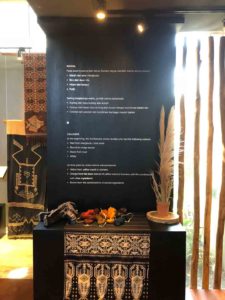 They will be holding more workshops on Sumbanese wicker, accessories, and textiles very soon, so make sure you follow @galeriwastraku on Instagram to receive updates on future workshops. For those cultural enthusiasts and those who love art and traditional craftsmanship, I highly recommend joining their future workshops.