Being a tropical island, Bali has many marine destinations for you to explore and discover. There are world-class diving locations located all around the island that cater to all levels of divers. These diving locations are also home to many diverse marine life and each have their own underwater worlds for divers to experience. The passionate team at Nico Dives are very knowledgeable and can guide you to some of the best spots to explore the waters in Bali and truly experience the full extent of its natural wonders. In this article, we will be sharing some of the underwater creatures that you can expect to encounter in the different locations around Bali.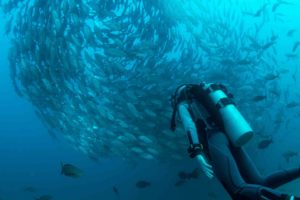 Diving Nusa Penida and Nusa Lembongan
The clear waters in Nusa Penida and Lembongan are a popular destination for travelers around the world. Diving points such as Crystal Bay, Manta Point and Toyapakeh are home to the majestic reef manta rays and the famous mola mola sunfish. The reef manta rays found here are a bit different to their bigger relatives the Giant Manta Ray that roam the deep ocean.
As their name suggests, reef manta rays like to hover around places that have coral reefs in search of plankton. They are also more social and playful than the bigger oceanic manta rays. This makes them a truly majestic swimming companion for divers to interact with, as they don't mind having us around.
You can also expect to see the famous Mola Mola sunfish in these waters. They are typically found much deeper in the ocean, but if you come during their migrating season you might be able to catch them just casually swimming about. They are truly a unique sight to see, as their large angular fins and oversized bodies make them very distinct.
Diving Tulamben Bay
The most frequented dive sites here are Coral Gardens, The Drop Off and the famous USAT Liberty Wreck. Each one hosting their own unique underwater creatures. Coral Gardens and The Drop Off are perfect macro dive sites. With the expert divers in Nico Dives, you can expect to find small sea creatures like the lionfish, moray eels, ribbon eels pygmy shrimps and occasionally the elusive harlequin shrimps.
The USAT Liberty Wreck is also world-renowned for its beautiful and rustic remnants of the historical ship from World War I. The crystal clear waters, close proximity and diverse underwater ecosystem makes this ship a favorite location for photographers and all levels of divers.
Puri Jati Muck Diving
If the vast open ocean sounds too intimidating for you, or maybe you prefer to observe the smaller underwater ecosystem, then perhaps muck diving is the better option. The muck diving site in Puri Jati is mostly littered with sea grasses, sea weeds and debris which makes it a real paradise for smaller, more unusual sea creatures to lurk in. You can expect rare encounters with the mimic octopus, dragonets, nudibranch and frogfish among others. In addition, the sea floor in this location is covered with black volcanic sand that makes for a striking contrast for these animals.
Feel like spending a night in Sanur before taking a boat ride to the Nusa Islands from the harbor? Stay at Kembali Lagi, an affordable luxurious accommodation located within Sanur's vibrant beachside community.