If you are searching for affordable yet luxurious accommodation in Sanur, then Kembali Lagi Guest House might just be what you're looking for.
At Kembali Lagi Guest House, we strive to provide an outstanding accommodation option in Sanur, with a private and friendly environment. Our 8 beautifully decorated rooms offer a homey and comfortable atmosphere surrounding the perfect tropical pool. We put emphasis on your personal comforts, ensuring we fulfill any of your desires, wants and needs.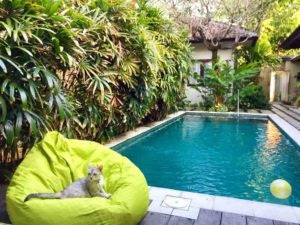 Personalized Service
Our dedicated and attentive staff are always available. Kembali Lagi Guest House always ensures the best-personalized service for all our guests.
Whether you're looking for a private car to explore Bali or a boat trip to neighboring islands, our team are happy to assist with your bookings.
We listen closely to our guests' needs and we offer excellent recommendations for beaches, spas, restaurants, dive centers, tours, and attractions to enhance your holiday in Bali.
Facilities
Our Sanur guest house consists of 7 en suite rooms and a 2-bedroom family suite. All our rooms are intricately decorated with designer furnishings, equipped with flat-screen TV and DVD player, as well as a mini fridge.
Our family suite is equipped with a private, full-service kitchen. However, if you're staying in any of the other rooms, we also have a shared kitchen which allows you to prepare and cook your own meals.
We also have a pool located in the center of our guest house. If you'd like to take a dip underneath Bali's beautiful sunshine, our tropical pool welcomes you.
Good vibes
Our award-winning Sanur guest house is designed to welcome you with a homey ambience. Enjoy the good vibes and experience the best from your stay with us.
Instagrammable spots
Need to load your Instagram feed with new photos or videos? Our Sanur guest house has various different spots to beautify your feed! From the fine-looking interior and furnishings to the lush tropical pool, you will have various spots to capture your stay with us.
Affordable price
Compared to hotels, guest houses are relatively affordable. Although cheaper in price, we ensure your comfort will not be compromised. Kembali Lagi Guest House strives to provide affordable luxury for guests to enjoy the holiday they deserve.
For your next Bali holiday, book directly on our website and receive the best offer!