The Keris Dance is the battle between two forces of good and evil – the Barong being the good spirit and Rangda the evil spirit. These two have always been sacred symbols among the Balinese Hindus and the battle is performed during holy days and spiritual events. Nowadays, the symbols and dances have grown popular among tourists.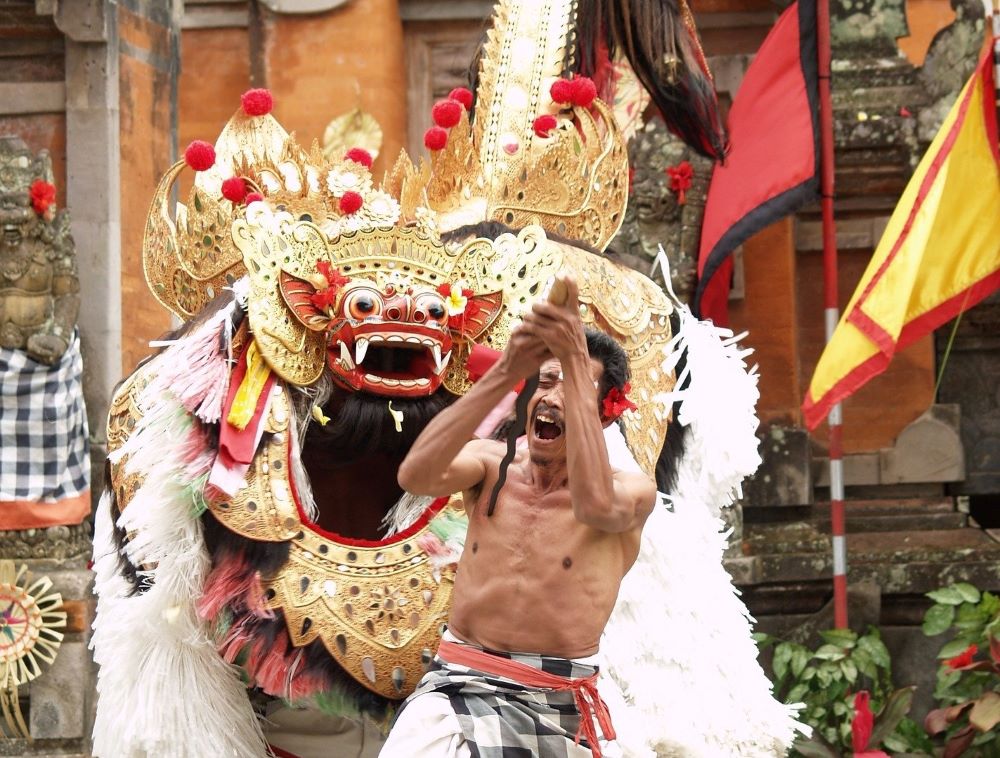 The dance is considered one of the most sacred dances in Bali, symbolizing good and evil and the relationship between men and the unseen spirits. The Barong mask can be in the form of a tiger, lion, boar or buffalo, but the Barong keket in the shape of a mythical creature is the most popular. The Rangda, also known as the "Demon Queen", is usually portrayed as a witch with a long tongue and is associated with all negative spirits.
The Keris Dance and Calonarang stories are usually performed during Odalan Anniversaries in Balinese temples. Taking place in the courtyard, where locals will gather around midnight. Due to the late start, the performance already has a creepy atmosphere, which is added by a scene of a village cursed by the black magic from Calonarang. Rituals meant for the dead are performed as if they are really dead. The atmosphere turns even creepier when they tell you to never leave the performance when it is still in progress. As the people believe that during the casting of the dead, evil spirits have taken form and are on their way for a feast, and you are likely to meet them on the way home.
During the dance, the Rangda enters the scene accompanied by several men holding their traditional daggers (keris). The men fall under her spell which puts them in a trance, causing the men to stab themselves. The men are protected from injury due to the Barong's presence. The Barong eventually earns the victory which then grants protection for the village. Even though the dance represents good versus evil, there is never a real ending to their conflict, meaning that the Barong's victory is never the end.
Both Barong and Rangda became famous worldwide, now identified as some of the icons of Bali. Want to experience the thrilling dance performance yourself? Stay in Kembali Lagi Guest House & Villas for an affordable and luxurious stay with local temples nearby where the sacred dances are performed on special days.