Beaches in Bali are all open to the public, meaning that you can lay a towel or sarong anywhere on the sand and enjoy the sun and surf for free. However, if you are looking for a bit of luxury and service, the growing number of beach clubs provide lounge chairs and umbrellas as well as dining options and swimming pools. Many of the beachfront hotels also offer day-passes to walk in visitors. Here are the top three beach clubs in Sanur to consider visiting.
Artotel Beach Club
Photo Source: Artotel Beach Club Facebook
Opened in 2018, Artotel Beach Club Sanur (ABC) is part of the Artotel Group. The beach club features large family beach beds as well as single loungers, poolside tables and an amazing bamboo treehouse overlooking the ocean.
Having direct access to the beach, this public club welcomes guests from all age groups and provides a friendly environment with a laidback atmosphere. It features a lagoon pool, huge lawn, playground for the kids, restaurant, bar and lounge. ABC also hosts a number of events, such as their monthly Pasar Minggu Bazaar, featuring delicious cuisines, stylish fashion accessories and acoustic weekly performances. The entrance fees vary from Rp100,000 to Rp500,000 with the fee applying to food and drink purchases.
Byrdhouse Beach Club
Photo Source: Byrdhouse Beach Club Facebook
Located at the Segara Village Hotel, Byrdhouse Beach Club is easily accessible by outside guests through Sanur's beach footpath. This beach club includes three different restaurants: Le Pirate Kitchen, its signature restaurant; Minami Kitchen, offering heavenly Japanese cuisine; and Amuse Geule, a seaside café offering coffee and wood-fired pizzas.
While enjoying their comforting food and drinks, expect to be accompanied by live bands and colorful cultural dance performances throughout the week. Enjoy a fun and relaxing seaside ambience, while waiting for the sun to set.
Whacko Beach Club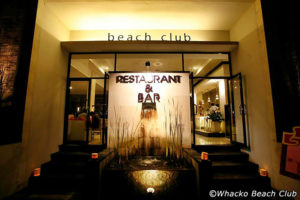 Photo Source: Whacko Beach Club
Set overlooking Tanjung Benoa's beach front, Whacko Beach Club is the ideal beach club for families. Take a swim at their enormous blue-tiled pool or sip a signature cocktail at their pool bar. Whacko Beach club serves delicious treats, ranging from Indonesian to western food. If you're looking for something more adventurous, simply go to the front counter and ask the staff to organize a water sport quest for you.
Looking for a place to stay in Sanur? Kembali Lagi offers a variety of outstanding bed & breakfast options, with a combination of traditional and modern vibes.