Among the many coastal areas of Bali, Sanur beach is well known for its calm and relaxing atmosphere. The area is not as busy as Seminyak and therefore lends to a more quiet ambiance that makes it a good destination for those wanting to relax. Despite the relatively quiet atmosphere, there are plenty of things to do in Sanur. In this article, we'll be highlighting places and activities to give you ideas on how to best spend and enjoy your time in Sanur.
Sunrise at Pantai Karang, Sanur Beach
Sanur beach is located on the eastern coast of Bali. This sets you up for one of the best locations to view the magical sunrise of Bali. Technically, you can view the sunrise from anywhere along the coast of Sanur Beach, but one location that stands out among the rest is Pantai Karang. What makes this particular spot unique is the island that houses two gazebos located just off the shore. The sun can be seen rising from the middle of the island, creating a sunrise sighting unlike anywhere else. You can even walk to the island on foot during low tide!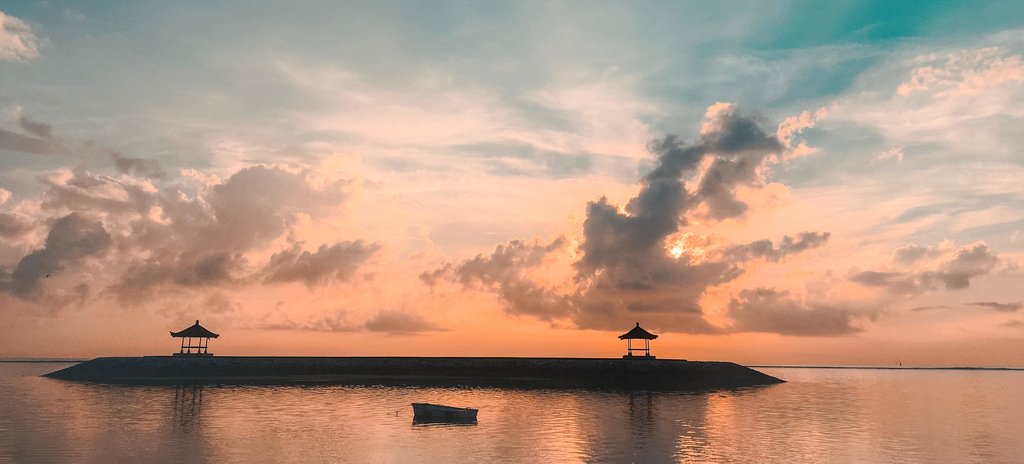 Sanur Sunday Market
Once you've seen the magical sunrise, it's time to get a wholesome breakfast. For that, we recommend stopping by the Sunday Market in Sanur. As the name implies, the Sunday Market is only available on Sundays, and it is your chance to get a taste of the fresh local Balinese cuisine. They also have a variety of locally made arts and crafts that would make for the perfect souvenir during your visit to Bali.
Traditional Balinese Nasi Campur at Men Weti
If you're looking for a more traditional Balinese meal, then you should definitely try the Men Weti Nasi Campur. Men Weti is located in Pantai Segara Ayu along the coast of Sanur. They serve arguably one of the most authentic Balinese Nasi Campur you could ever taste on the island. Even the locals like to eat here due to how authentic (and affordable!) they are. Be sure to come early though, Men Weti is known to sell out quickly due to the number of visitors they get.
Looking for accommodation in Sanur? Browse through our Villas and Guesthouses at Kembali Lagi! We offer both luxury and comfort for our guests, with facilities that include private pools, modern kitchens, genuine hospitality and much more to make our guests feel at home. Book with us now and explore Bali!