To fully experience your stay in Bali you must immerse in its world renowned cultural shows. Bali's culture is rich in storytelling and traditions that are depicted through various forms of dance, plays and theatrical acts that stimulate your senses and invoke a sense of curiosity. These performances are showcased regularly and are situated all across the island. In this article, we will guide you through the most iconic performances in Bali and where you can experience them first hand.
Uluwatu Temple – Kecak Dance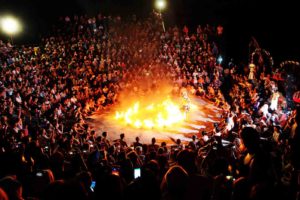 Perhaps one of the most spectacular performances you can experience in Bali is the legendary Kecak Dance in Uluwatu Temple. This iconic dance is known for its hypnotic chants by the male choir group and is performed regularly during sunset by the local Pecatu villagers. The temple itself is situated on the tip of the island with views that open to the Indian Ocean with the sunset as the backdrop. This makes for a dramatic performance that you definitely don't want to miss!
Tanah Lot – Surya Mandala Kecak Dance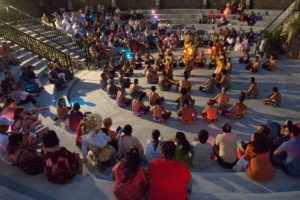 Photo Source: Surya Mandala Cultural Park Website
Tanah Lot is another location where you can witness the Kecak Dance. Located on the western coast of Bali, the temple is another culturally significant location for you to visit in Bali. After enjoying the beautiful sunset by the temple, you can witness the Kecak Dancers perform in the Surya Mandala Cultural Park nearby.
Bali Safari Park – Bali Agung Show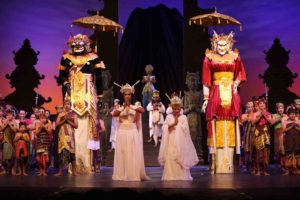 Photo Source: Bali Safari Website
The Bali Agung Show is a world-class theatrical performance that consist of over 150 local dancers, puppet masters, musicians and even animals from the safari to showcase the rich traditions and history of Bali. The performance is an amalgam of traditional dances accompanied by modern sophisticated lighting and sound setups. In addition, this theatrical act is held indoors conveniently within the Bali Safari complex should you want to take your family to see other events in the safari.
ARMA Museum Ubud – Legong Dance
The Legong Dance is another signature Balinese dance that was historically performed only to the royal families. Known for its dexterous movements, exquisite costumes and rhythmic music from the gamelan orchestra, this is a must-see performance that will showcase the rich cultural history of Bali. You can witness this classical performance at the Agung Rai Museum of Art (ARMA) every Sunday at 7:30pm.
Looking for guest house in Bali? Located conveniently within Sanur's beachside front, Kembali Lagi Guest House and Villas provides you with a variety of accommodation options to suit you and your family's needs.