Kembali Lagi Guest House and Villas offers a variety of outstanding accommodation options. Whether you choose to stay in our award-winning boutique Bed & Breakfast or one of our 2, 3 or 4 bedroom private pool villas, you will experience 5-star comfort and personal services at an affordable price.
Situated in the heart of Sanur's beachside community, each of our properties is an easy stroll from shops, cafes, spas and the famous Sanur beach.
Villa Matahari Terbit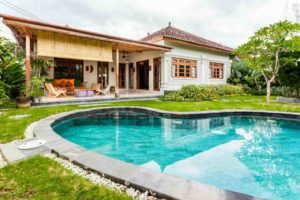 This spacious and luxurious villa blends Balinese style with western comfort. It has high ceilings, designer interior and bedding, bathrooms with rain head shower and private gardens. The large shaded terrace overlooks a majestic garden and pool, plus, with the combined living/dining area and gourmet kitchen, Villa Matahari Terbit is ideal for family and friends to gather.
Things to do in Sanur
There are a lot of sightseeing highlights and different activities in Sanur. Sanur Beach is famous among tourists all around the world. The coastline of Sanur spans around 8km from north to south, between the coastal border of the Gianyar regency and the mangrove forest in southern Denpasar. The sunrise at Sanur Beach are extraordinary.
Go for a morning walk or jog on the paved pathways that wraps around the edge of Sanur Beach. Families can easily enjoy the facility and even bring children in strollers. Renting a bicycle for yourself or your children can also be an option. Cycle down the walkway and enjoy the breeze of the afternoon wind. Look out for traditional boats lined up on the water. It becomes the perfect backdrop to capture your sunset moment.
If you're looking for something to eat, take a walk and dine well at Sanur's famous Jl Danau Poso. This street is lined up with numerous eateries, ranging from warungs to cafes.
Kembali Lagi Guest House and Villas would be honored to host you at the Matahari Terbit Villa in Sanur.