This year, Bali is celebrating Nyepi on Thursday, 7 March 2019. On this sacred Hindu holiday, the island will once again come to a complete halt to welcome the new year of Saka. Unlike other holidays and celebrations, Nyepi in Bali brings a whole unique experience, as it is celebrated in total silence.
For 24 hours, all activities stop. Nobody is allowed to leave their premises. Roads are free of traffic or any vehicles, even Ngurah Rai International Airport is closed, with no planes flying in or out. For most people, this is one of the most anticipated holidays as you can see rare night skies free of pollution, showcasing twinkling stars and a clear milky way. If you happen to be in Bali during Nyepi, here are some unique experiences for you to witness:
The Melasti Procession
Around 3 days before Nyepi, a lively purification procession of Melasti will take place. Dressed in beautiful white ceremonial clothing, the Hindu Balinese parade towards their nearest water source from various village temples. You can see spectacular sights of Balinese women carrying handmade offerings on their head, heading towards the ceremony. Sacred ornaments from village temples will be brought along with them for purification, accompanied by gamelan music resonating loudly.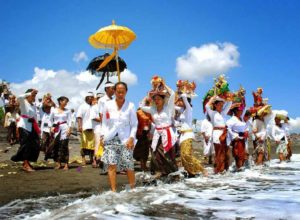 Image Source: Masbrooo Magazine
Although most ceremonies are normally held at the beach, some processions may also be held at the nearest lake or water springs up in the mountains. Participants of the procession will gather, sit down together and face the water source. The religious leader will then sprinkle holy water on everyone and on every sacred ornament during the ceremony.
The Ogoh Ogoh Parade
Exactly one day before Nyepi, another lively ritual takes place in Bali. Gigantic demon-inspired dolls are paraded around the island. This figure, handcrafted out of paper, bamboo and foam, symbolizes evil creatures and all negative elements. As they are carried, they are accompanied by loud clashing noises and fired torches. The Balinese believe these demons will attract evil spirits to inhabit them. At the end of the parade, in order to purify the island, these gigantic monsters are burnt together with the demons.
Image Source: Tirto.id
Star Filled Sky
Due to the prohibition of traffic, activities and lights during Nyepi, the sky in Bali will be pitch black. The whole island turns off its lights for 24 hours, creating a sky with zero light pollution. You are able to witness a remarkable night sky filled with bright shining stars and possibly the stunning Milky Way.