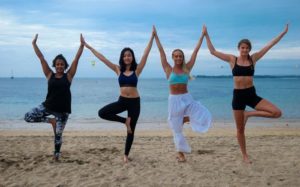 Bali's spiritual vibe and serenity makes it the ideal destination to learn and practice yoga. Only in Bali can you choose to practice yoga surrounded by rice paddy fields, in a yoga studio class, at the park or even at the oceanfront.
In Sanur, Power of Now Oasis will help you find inner peace while gazing at the calm waters of Sanur Bay. Located beachfront at the south end of the Sanur footpath, Power of Now Oasis is Sanur's only oceanfront yoga studio offering daily yoga classes, training, retreats and treatments.
Yoga Classes
Power of Now Oasis' amazing, sustainable bamboo-structured retreat provides a sense of nature and wellbeing. It offers numerous classes for you to choose, ranging from hatha, vinyasa, yin yoga to meditation. If you are unsure which class to take, the yoga studio is happy to match beginners as well as experienced practitioners with an appropriate class based on profile and experience level.
Local as well as Western instructors teach the classes and provide personal guidance. Private classes are available for individuals and groups. If you would like to join a class, reservations are advised but not necessary. To view their latest schedule, be sure to check their website regularly as their class timetable is updated every week.
Yoga Teacher Training
Aspiring yoga teachers may also join Power of Now Oasis' 5 Star Yoga Alliance certified teacher training courses. This is a 200 hour program that runs intensively for one month. The course will give you a strong foundation of the traditional Hatha Yoga and today's modern Vinyasa Flow. You will have the opportunity of self-discovery and find your personal style of teaching. At the end of the program, you will receive certification form Yoga Alliance and Power of Now Oasis that will open doors for teaching positions all over the world.
Holistic Treatments
Health and meditation retreats, as well as holistic treatments including traditional Chinese acupuncture, Ayurveda treatments, Bokashi treatments and Usada meditation are also available at the yoga retreat.
Staying at Kembali Lagi Guest House? Let our concierges help you arrange a yoga class at this oceanfront yoga oasis.