If you're looking for a family-friendly retreat in Bali, there is no better place to start than a private pool villa in Sanur. Located on the eastern coast of Bali, Sanur presents a quiet and tranquil atmosphere for you and your family to experience. For a more intimate and private getaway experience, we recommend renting a private pool villa, so that you can experience the privacy and ambiance of Sanur at its best.
Retreat in a private pool villa in Sanur
If you're looking for an intimate getaway experience with friends, family or loved ones, the best way to go is to rent a private pool villa in Sanur. Not only will you have more privacy and personal space, you'll also have a much more intimate experience compared to staying at a larger resort or hotel. Additionally, a private villa will provide a more conducive environment for you and your family to maximize your stay and absorb the curative ambiance of Bali.
Our kitchen provides useful facilities for kids meals and the swimming pool is perfect for an afternoon dip after nap time! Being able to keep your kids favorite snacks right in the kitchen fridge and having the ability to order in and relax on some nights is ideal when travelling with a young family.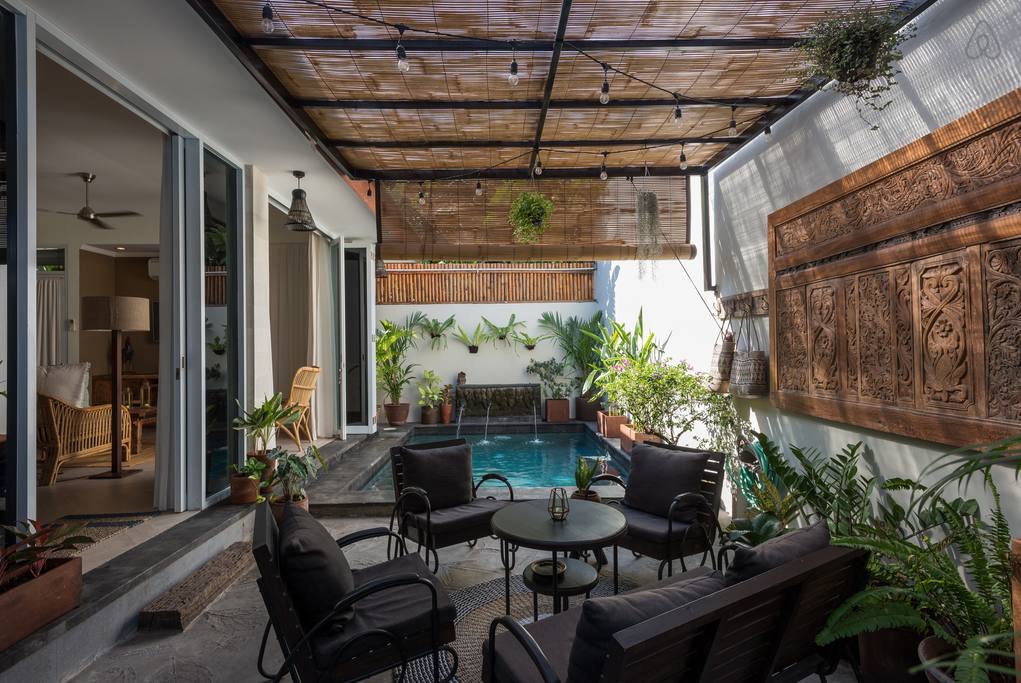 What is there to do in Sanur?
Out of all the coastal beachside communities in Bali, Sanur is known for its quiet, and relaxing atmosphere. You'll find a whole host of boutique restaurants and cafes along the main roads for you to sip your favorite cup of coffee, or try out the local delights. Activities include biking along the beach, indulging in one of the many day beds available in the local restaurants lining the beach, and if you feel like getting wet there are also water sports such as snorkeling, the ocean walker, and banana boating among others.
Since Sanur is on the eastern side of the island, you'll also have front-row views of the majestic sunrise of Bali. We recommend visiting Pantai Karang, for the best views of the sunrise. You'll also have plenty of options to eat breakfast or brunch once you're done taking in the view.
Here at Kembali Lagi Guest House & Villas, we offer the combination of comfort and luxury in our private pool villas and guesthouses. Complete with the latest facilities, creature comforts, modern connectivity, designer interior, private pools, and our most genuine Balinese hospitality – all to ensure you feel right at home in Bali.
Book your private pool villa with us now.