Bali's nightlife isn't just about partying. If you are looking for a different kind of vibe, there are plenty of markets open during the day and throughout the night all around the island. The Sanur night market is no exception; this small market is bustling with activity for you to explore after the sun has set. It is referred by the locals as Pasar Tradisional Desa Sanur, while also known as Sindhu Night Market by regular visitors.
From a grocery market to a food haven
Image Source: Bali-Indonesia
Located at the northern end of Jalan Danau Tamblingan, this market is a clean and modern one although referred to as a "traditional" market. Holding the name Sanur Night Market, this market is in fact very much alive even before sunrise, operating throughout the day. In the morning, it dedicates itself to selling groceries, spices, fresh vegetables, and other household goods. Others also sell fresh flowers and coconut leaves for their daily offerings. As the day goes by, it shifts into a place full of pleasures with astonishing food stall variety starting from 6 P.M.
Abundance of delectable cuisine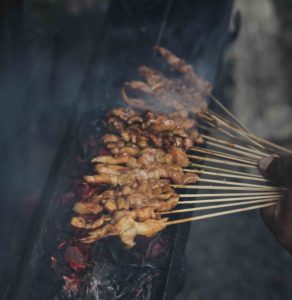 If you are keen on trying traditional Indonesian cuisine or want to blend in with the locals, you should definitely add Sanur Night Market on your itinerary. Those in search for the best local cuisine can discover an abundance of food choices from fried to grilled food. Local delights include fried noodles and fried rice. You can also find Indonesia's very own meatball soup known as "bakso" made with a broth base, meatballs, vegetables, and noodles. If you want to level up your experience, feel free to add some chili sauce and various condiments to your bowl of bakso. There will also be plenty of satays available, ranging from chicken, lamb and beef. Served with succulent peanut sauce, you can either enjoy these skewers with steamed rice or lontong.
With a range of local pleasures offered in this market, it may be difficult for first-timers to choose what to order. Worry not, these local cuisines are mostly below Rp. 30,000 (about $2). Hence, trying a number of dishes should still be on budget.
Looking to explore Sanur Night Market? Stay at Kembali Lagi Guest House, a luxurious yet affordable guest house situated at the heart of Sanur's beachside community.