Sanur's laid back and more traditional vibe provides a welcome change from bustling Kuta and Legian. Don't know what to do or where to go when in the area? Here is a list of must-do activities in Sanur!
Chill at Sanur Beach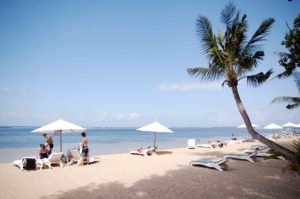 Sanur's six kilometers of serene beachfront is enhanced by a paved footpath perfect for walkers, joggers and bicyclists. Bali's beaches are all public. Lay a towel on the beach, under a tree or in the sun, or rent a lounger from one of the numerous hotels, cafes or beach clubs for a small fee. The mesmerizing sunrise will be an unforgettable memory of your holiday.
Explore Le Mayeur Museum
In 1932, at the age of 52, Belgian artist Adrien-Jean Le Mayuer de Merpres arrived in Bali and was fascinated by the Balinese culture and the light and color of the unspoiled island. Planning to stay only eight months, Le Mayuer fell in love with one of his young models and remained in Bali for nearly the rest of his life. He and his bride built a home on Sanur beach where they lived through peaceful times as well as the turbulent period of Japanese occupation during WWII. Thanks to the foresight of the Indonesian Government, this original home is now a museum housing over eighty of his works on paper, canvas and plywood in five collections.
Le Mayeur Museum is open from Monday to Friday from 8 a.m. to 2 p.m.
Take a "sea walk"
Surround yourself with colorful fish and reef without snorkel or dive tanks with Bali Seawalker. No swimming experience required as Bali Seawalker's professional guides accompany you down a ladder 4-7 meters under the ocean with specialized equipment allowing free breathing while walking on the ocean floor. Suitable for guests over 9 years old, this safe and fun 30 minute experience will be the highlight of your Bali Holiday.
Kembali Lagi Guest House and Villas is happy to make all arrangements for you.
Swim and snorkel with baby sharks
Have a fun and educational day out with The Bali Sharks Tour and swim and snorkel with shark pups! This three-hour tour also includes a visit to the turtle rescue sanctuary, a marine garden aquarium tour and meals for all participants. Don't worry if you can't swim, you can still get very close and enjoy the shark-feeding experience.
Trying to find a place to stay in the area? Located in the heart of Sanur's beachside community, Kembali Lagi Guest House and Villas offers an array of accommodation options for you and the family.