Tired of looking at the same four walls of your home? Looking to escape your everyday routine and travel to a luxury Sanur villa at an affordable price? Look no further than Kembali Lagi Guest House and Villas.
With 2020 being such an eventful year for everyone, we understand the need to retreat to unwind and recharge your minds and bodies. And what better way to do so, than with a staycation retreat in Bali. A staycation retreat at Kembali Lagi might be just what your family needs to escape and bond together. Not to mention it will also be safer than going into more crowded places in these times. And the best part, you can also take your four-legged friends with you, as we are pet friendly!
Does a staycation in Sanur sound like a good idea to you? We've got the latest information on activities, experiences, and restaurants that are still currently running, to make your staycation experience in Sanur both memorable and affordable.
Catch the sunrise
Staying in Sanur makes it easy and convenient for you and your family to witness the magical sunrises in Bali. Sanur's geographical location being on the eastern coast means you can catch the sunrise from almost any spot on the coastline. Our favorite spots to see the sunrise include Segara Ayu Beach, Karang Beach, and Sindhu Beach. If you come early enough, you can even lounge at one of the gazebos seated on the very edges of the coastline.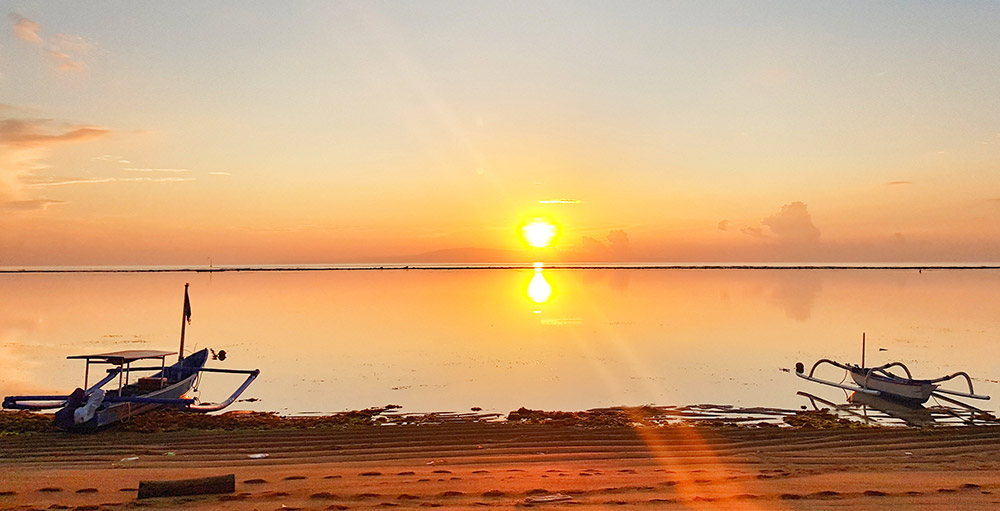 Early morning jog
Get a breath of fresh air with an early morning stroll or jog through Sanur. You can start from the Segara Ayu Beach and make your way through the beach on the paved path. You'll come across many small cafes and restaurants should you want to take a break or get breakfast on the way back. Alternatively, you can also jog through a more scenic route through the lush rice fields of Sanur by going to Kutat Lestari. This is a shorter jogging track, but makes up for it with the incredible open view of the rice fields.
For more information about jogging tracks around Bali, check out our dedicated article for more details and how to get there.
Explore Sanur on bicycle
Sanur has plenty of other interesting places for you to explore. From boutique restaurants, cafes, arts and crafts stores, museums to temples that you can discover during your stay in Bali. While exploring on foot is certainly possible, you may want to opt to rent a bicycle for ease of mobility. There are plenty of places where you can rent bicycles in and around Sanur, we can also help you here at Kembali Lagi with transportation should you need it.
Kembali Lagi Guest House and Villas
Planning a staycation with your family in Bali? Look no further than our guest house and villas at Kembali Lagi. We offer the best blend of comfort and luxury at an affordable price for you and your family.
Additionally, we've taken extra safety measures and precautions to ensure that our guests feel secure during their stay at Kembali Lagi. To learn more on how we are keeping our guests safe or if you have questions regarding our accommodation, reach out to us directly.
Book your stay with us today with Kembali Lagi Guest House and Villas.