The Bali Provincial State Museum often called Bali Museum for short, is Bali's central landmark, usually highlighted on city tours to the capital, Denpasar. It's the oldest museum on the island, with over 10,000 exhibits in separate pavilions. These pavilions are in the classical form of Balinese architecture, which includes tropical gardens, stone carvings, and bas reliefs.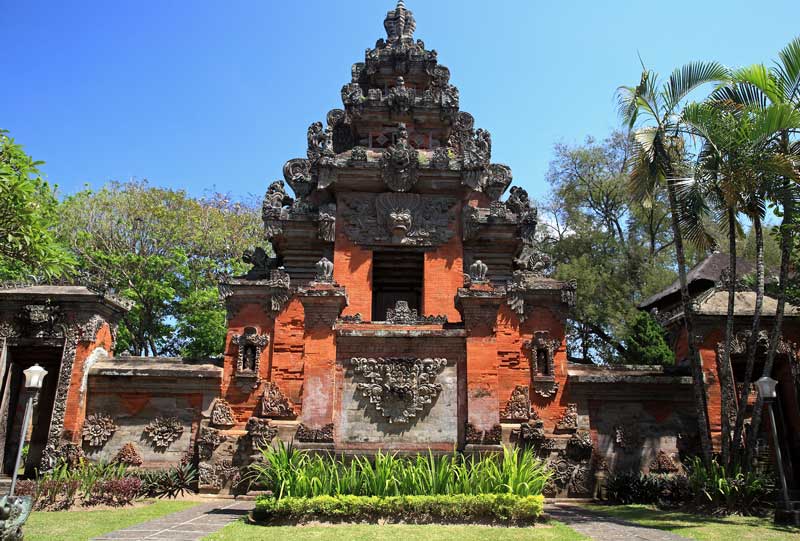 The museum is a must-visit if you're strolling around Denpasar. It sits beside the Jagatnatha Temple and Puputan Badung Square, where you can grasp the history and arts of Bali for a few hours, before moving on to the square of the temple.
The plan to build this museum started with the Governmental functionary of Bali Kings, Society Prominent and some artists, and began in the year 1910, with some basic concepts of the building structure. After the idea was fixed and agreed, they finished the main building in the year 1925, which functioned for exhibition purposes at the time. It took seven more years before the collection of items made its way into the museum.
There are 3 sections within the museum – an outer courtyard, a jaba tengah (or middle courtyard) and the jeroan (or main area), where most of the pavilions are located. The three pavilions are named after the three largest regencies in Bali, which are Buleleng, Karangasem, and Tabanan. Within each pavilion are collections of ancient religious artifacts, traditional paintings, and agricultural tools for visitors of all ages to observe and talk about.
You can find a collection of ethnographic displays such as the traditional Kamasan-style paintings from the Klungkung regency (Eastern Bali) as well as ancient statues and inscriptions. Weapons originating from the Bronze Age of Bali are also presented here, as well as contemporary and ritual items such as shadow puppets made from leather, costumes, traditional masks, and musical instruments.
Make sure you visit the Bali Museum for some in-depth history and knowledge of Balinese culture. Stay at Kembali Lagi Guesthouse in Sanur for a luxury and affordable stay in Bali, only a few minutes drives from the capital's attractions.