Bali isn't just a paradise for balmy beach days, café-hopping, or lavish dining, but also a haven for a shopping spree.
Although Sanur may seem underrated from the upscale Seminyak, this neighborhood is actually bursting with lines of shops, boutique stores, art shops and more, making it an ideal laidback shopping destination. Most of your shopping in Sanur can be done in three main roads namely Jalan Tamblingan, Jalan Mertasari, and Jalan Bypass Ngurah Rai where a range of shops are ready to welcome shopaholics from all over the world!
From jewelries, wooden artworks, to fashionable apparels, here is your guide to shopping in Sanur.
The Shopping Row at Jl Danau Tamblingan
Photo Source: Bali Indonesia
The main street of Sanur, Jl Danau Tamblingan, is a major shopping area lined up with endless shops and boutiques. Explore the different shops offering souvenirs, bags, and electronics, to handicraft items that vary in price. For the small stalls, be prepared with cash as many cannot receive payments by card and be ready to exercise your bargaining skills here! Just across the road, you may also spot some local fashion boutiques such as Uluwatu Lace or Mama Leon.
Hardy's Sanur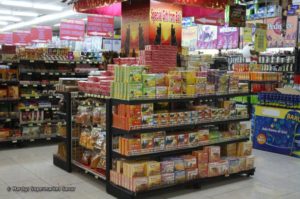 Photo Source: Bali Indonesia
Shopping in Sanur isn't complete without a visit to the largest superstore, Hardy's. The first floor houses a supermarket where you can find almost anything. There is a selection of fresh groceries such as bread, seafood, fruits, vegetables, and meats – a perfect alternative from shopping at the local markets if you choose to cook your own meals during your stay at a Sanur villa.
On the second floor, you will find a department store selling clothing items for men, women, and kids, with home ware items also available. If you are looking for a souvenir to bring back home, then look no further. There are a variety of Bali print shirts, beach sarongs, bamboo fans, woodcarvings and other selections of Balinese souvenirs in this two-story building.
Sanur Sunday Market
Photo Source: Tripadvisor
Sanur Sunday Market is another shopping experience in Sanur that you shouldn't miss! Drop by this market where you will find a multitude of merchants gathered together at the Sand Beach Club & Restaurant. There are numerous stalls that offer delicious slices of cake, breads, locally sourced vegetables, fashionable wears, jewelry, toys, gifts, and so much more. This event is great for family where parents can go shopping while the kids have fun with different children activities such as pottery making, face painting or simply having fun at the beach.
Unlike other areas in Bali, shopping in Sanur is easy and comfortable. Hop on a bike and explore your ways to discover the shopping scene of Sanur. If you're looking for accommodation in the neighborhood, stay with us at Kembali Lagi, luxurious yet affordable accommodation in Sanur's beachside community.