Just like its quiet beach character, shopping in Sanur offers a relaxing and easy-going experience. Even though Sanur's shops and boutiques are overshadowed by Bali's other famous destinations such as Ubud or Seminyak, Sanur still offers fashion items, arts and crafts and souvenirs sold at a bargain for you to discover.
You can always explore Sanur's popular Jalan Danau Tamblingan and find some hidden gems alongside it, or the main footpath along Sanur's beach that leads into the colorful art markets.
Here are the top places you should visit when shopping in Sanur.
Sindhu Beach Art Market
If you're in search of a collection of small art and souvenirs, the Sindhu Beach Art Market located on the northern end of Jalan Segara Ayu is the place to go! It's a rather less crowded art market compared to the other beach resort areas in Bali. The little shops within the complex each offer a variety of handicrafts including jewelry, woodcarvings and clothing such as sarongs in all colours and patterns.
Jalan Danau Tamblingan
The main street of Sanur is where all the fun begins! Jalan Danau Tamblingan stretches from north to south parallel to the eastern coastline. The street is lined with locally run art shops and boutiques.
It's walking distance from any hotel in Sanur, with the art shops selling different arts and handicrafts in a variety of prices and quality. Some shops have fixed prices to keep visitors from bargaining. There are also 'hidden' shops in the side streets of Tamblingan that might have the goods you are looking for.
Nogo Bali Ikat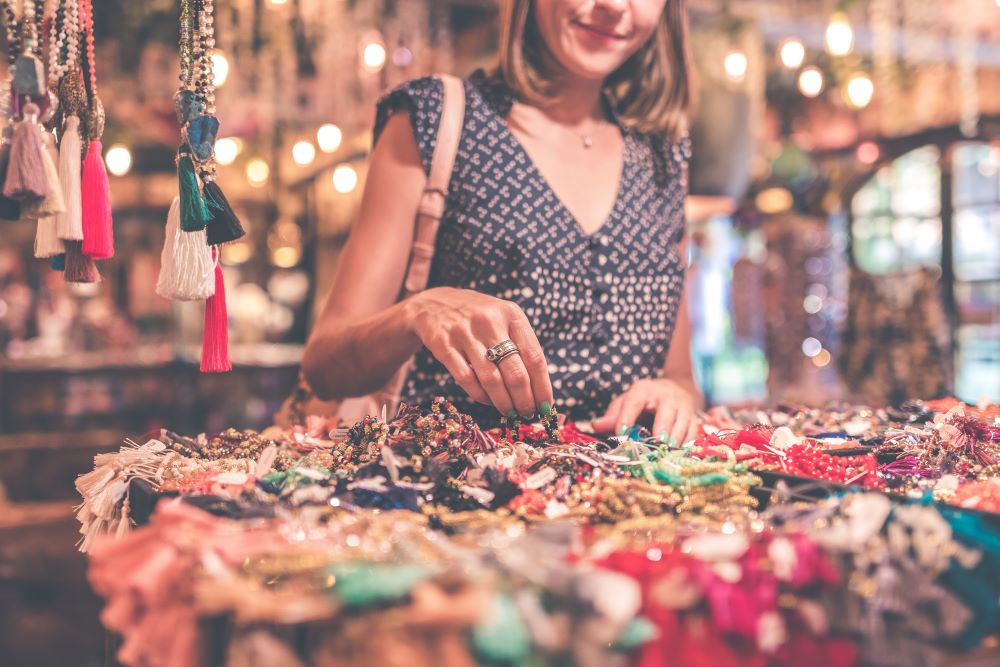 Nogo Bali is the place to find Balinese authentic, elegant and exotic textiles for your collection. You'll find a selection of hand-woven fabrics, jewelry pieces and rare samples kept in private collections. The fashion items offer endless motifs and colour options along with display pieces for home décor.
They offer vibrant colours on exquisite textiles and produce a premium quality which they claim will last for years. Their items are an excellent choice for gifts and souvenirs, with sales held regularly, making these treasures a bargain.
These are our favourite places to visit when staying in Sanur to fulfill our shopping needs. Make sure to stay In Kembali Lagi Guest House & Villa as the top award-winning property in Sanur already for 5 years in a row!