Sanur is a paradise for food lovers as it is home to a collection of cafes, restaurants and local warungs with every option available for different budgets and tastes. Some of the best Sanur restaurants are located on the beachfront, ideal for breakfast by the ocean or an afternoon bite with the kids. You can also walk along the streets of Jalan Danau Tamblingan, find a range of eateries and choose the most suitable menu. If you stay in Sanur, we guarantee that you will have endless dining options. To help you choose the best eateries, here is a list of Kembali Lagi's top picks for restaurants in Sanur.
Soul in a Bowl
Our favorite brunch spot located at Sanur's established main dining street, Jl Danau Tamblingan, is definitely Soul in a Bowl! This relaxing café serves smoothie bowls, sandwiches, burgers, cakes, and other creatively crafted dishes, all day long. If you're looking for a chilled night out in Sanur, you should also visit Soul in a Bowl in the evening, as they transform into a laidback bar serving stylish cocktails and accompanied by jazzy tunes.
Soul on the Beach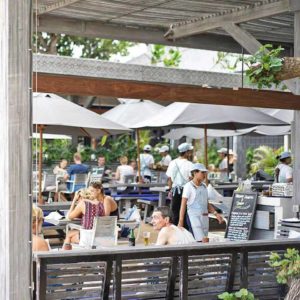 Basically, Soul in a Bowl with a beachfront location! Overlooking Pantai Sindhu and serving breakfast and dinner all day, this beachside restaurant's menu features delightful dishes such as slow braised lamb shank, Indonesian style pressed chicken, tasty Australian beef patty burgers and other must-try dishes. Bring your children and let them play in the ocean as you savor your choice of delectable cuisine.
Square One
Looking for a Sanur eatery that serves vegan options? Look no further than Square One! This modern café opens every day from 7 AM, serving both savory and sweet toast, fresh salads, vegan wraps, smoothie bowls, plenty choices of juices and also coffee.
Ryoshi
Known as the House of Jazz in Seminyak, Ryoshi just recently opened its newest branch in Sanur! This authentic Japanese restaurant serves the finest quality Japanese food, offering you a delicious range of sushi, sashimi, wagyu kobe, noodles and yakimono menu.
Three Monkeys
This stylish restaurant located in Jl Danau Tamblingan has a contemporary menu extending from modern Indonesian and Middle Eastern dishes to Mediterranean cuisines. You'll find a creative blend of dishes too, such as their Balinese style pizza. Not only are the servings delicious, but they are also well presented. Expect awesome jazz tunes while you delight in their scrumptious menu as this Sanur restaurant promises good music to accompany your dining experience.
Explore Sanur restaurants and enjoy delicious eateries. Looking for an accommodation to stay in Sanur? Kembali Lagi offers a luxury guest house and villas all situated in the heart of Sanur.