Due to its beautiful sceneries, cheaper living costs, and nice weather all year long, Bali is a popular destination for long-term residency for western expats. If you're thinking about starting a new tropical life in Bali, then the first thing to do is to decide where to live on this beautiful island – by the beach or by the paddy fields? Among the locals or among the tourists? It might be tough and seems like a challenge, but this blog will guide you on renting the perfect long term villa in Sanur.
Why Sanur?
Bali might not be the biggest island, but there are countless different places for you to choose from for long-term living. Compared to the busy Kuta, Legian, and Seminyak, areas Sanur offers you a more laidback and peaceful neighborhood, providing you still with numerous cafes, shops, and restaurants within reach. In addition to the wide selection of eateries, you can also enjoy the serenity of lounging at the famous Sanur beach. The neighborhood is ideal for families who want to immerse in the natural beauty of Bali while having a safe and welcoming area for their kids.
Finding the right long term villa in Sanur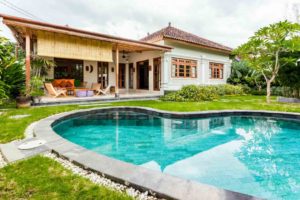 With the many options available, finding the right long term accommodation of course isn't easy. There are more than a few questions that need to be answered. What is your budget? How many rooms do you need? What kind of facilities are you looking for? Is it easily accessible? Does it include a fast and reliable wifi connection? How is the proximity to shops, cafes, supermarkets, and restaurants nearby?
We always suggest to our friends and visiting expats to stay in an area for a few weeks before making a big long term decision. This will allow you to visit the restaurants, markets and get to know the general feeling in the area before signing up for a long term lease.
If you are looking for a luxurious and spacious yet affordable villa, Kembali Lagi has three accommodations namely Villa Indah Lagi, Villa Matahari Terbit, and The Cottage on Kesari – all situated in Sanur, suitable for long term accommodation. Each of the villas comes with designer interior beddings, a full modern kitchen and a private pool. The kitchen is also equipped with basic amenities, where you can choose to cook by yourself or use Kembali Lagi's affordable cooking services.
Stay longer and save more
Ready for an extended stay in Bali? Book one of Kembali Lagi's villas in Sanur and enjoy special rates when you stay longer.