Cycling in Bali gives you the privilege of experiencing the island's beautiful nature while getting up close and personal to the local Balinese life. If you're staying in the eastern part of Bali, be sure to pedal your way around in the morning and enjoy the best of cycling in Sanur.
Unlike other beaches in Bali, Sanur beach features a long paved boardwalk making it convenient for long walks and cycling. The boardwalk stretches along Sanur beach sharing the coastline with beachfront hotels and villas, as well as an extensive mix of shops, restaurants and bars.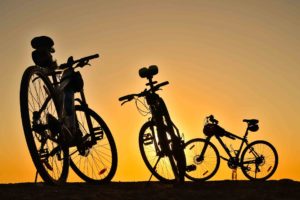 Catching the sunrise while cycling in Sanur
Be sure to wake up early as you don't want to miss one of the island's best sunrises. Sanur's relaxing coastal ambience attracts early morning visitors that take in the warmth of the sunshine, watch fishermen tend to their boats, visit the local warungs or just people-watch the tourists from around the world
The sunrise in Sanur is outstanding, with views of local boats and even a glimpse of the mountains and neighboring islands of Nusa Lembongan and Nusa Penida. Rise before the sun and start your picturesque cycling to Sanur beach to find the perfect spot and see the sun climbing its way into the sky.
Morning cycling in Sanur not only lets you see the incredible sunrise, but also protects you from Bali's scorching heat as the mornings are generally cooler. In addition, cycling has many health benefits for the body: it burns calories, builds stronger muscles and improves the heart.
Enjoy a post cycling breakfast
Sanur has endless beachfront restaurant options. After finishing your cycling experience, reward yourself with a delicious breakfast at one of the many wonderful local restaurants. Choose from a wide range of restaurants or warungs. As an alternative, you can also cycle to the Sanur morning market and savor the delightful local breakfast menu.
Stay with us at Kembali Lagi Guest House & Villas and experience the best of cycling in Sanur. Our properties are all located within the Sanur beachside community and have easy access to Sanur's famous cycling path.