Denpasar boasts some traditional Balinese culture with a mix of the latest technologically-advanced amenities. You can find some great beaches in the Sanur area as well as some majestic monuments such as the Bajra Sandhi. However, it's the ancient temples that are a must-visit as Denpasar is known to have a great balance between art and traditions.
Stroll beyond the busy streets of this developing capital city. Here are the 3 ancient temples of Denpasar you must visit.
Sakenan Temple
This charming temple located in Serangan offers a gorgeous view of the coastline and Nusa Dua Beach, along with hills on the other side. The name 'Sakenan' is derived from the word 'Sakya' which means uniting the mind. Some unique and sacred ceremonies are performed here by the locals and it is popular for both locals and tourists. Instead of the usual bricks, this temple has been built with coral stones.
Maospahit Temple
This ancient temple in Denpasar took two centuries to build, starting in the 13th century and being completed in the 15th Century. Its location is also in the center of Denpasar, only a kilometer away from the Catur Muka Statue. The name Maospahit Temple is derived in honor of the Bali god, Batara Maospahit. Through the years, the temple has withstood some major natural calamities such as large earthquakes and storms and has still succeeded in preserving important ancient artifacts that stood from the very day this temple was built.
Jagatnatha Temple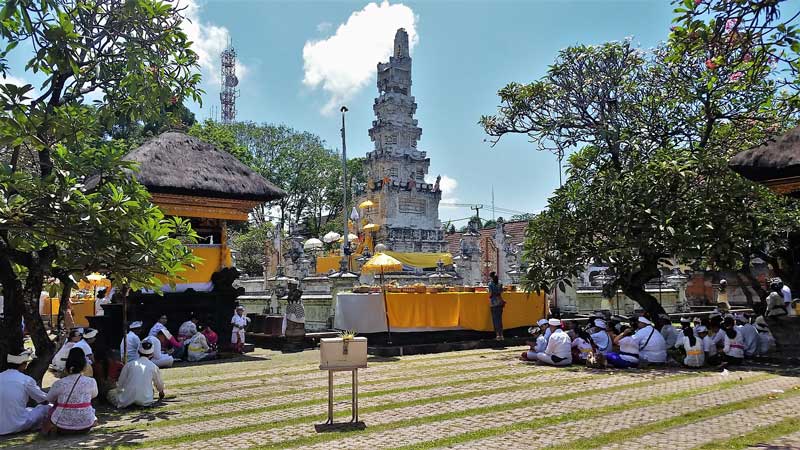 This temple, located right in the center of Denpasar, is the biggest temple in town and also the most visited. Jagatnatha temple also represents the rich history of the Balinese Kingdom. The temple has been under renovations for a few years, but still preserves gorgeous carvings that tell the story of Ramayana. The walls are carved of white coral with a large Padmasana, also in white.
Tips before visiting the temples
While visiting the temple, you must wear a sarong and sash that can be easily purchased nearby. Also, women going through their menstrual periods are prohibited to enter the temples.
Ready to explore these ancient treasures in Denpasar? Book a reservation in Kembali Lagi Guesthouse, located in Sanur, for an easy drive to these exotic Balinese wonders!