It's a laid-back destination compared to bustling Kuta, Sanur is known for its relaxed ambiance, perfect for a laid-back Bali vacation. This famous beachside town keeps visitors coming from all over the world for relaxing stays and lazy days on the stretch of the white sandy beach.
Even though it's more relaxed than Kuta, Sanur still boasts a variety of things to do. The town is an excellent spot for snorkelling and diving while the paved pathway on its beachside provides the perfect place for morning cycles or walking.
Family Friendly
Unlike other tourist areas in Bali such as Kuta and Legian, Sanur offers a family-friendly ambiance, making it an ideal location for families. The town has calm and shallow waters on the long stretch of sandy beach, which creates a safe environment for children to play while you relax at a beachfront restaurant.
Water Activities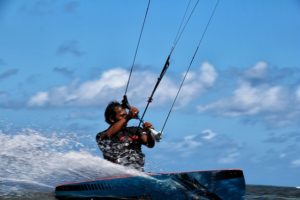 Sanur is packed with amazing marine life beneath its waves, along with a host of in water activities. Take up diving, snorkeling, kite-surfing or stand up paddle if you are feeling adventurous.
Snorkeling is a must-try activity if you're in Sanur! We suggest trying it at least once. It is best to snorkel at high tide to experience the underwater life at its best and observe what marine creatures do during the day!
If you're in for a challenge, then you should definitely try kite surfing! You'll need some practice to be able to master this sport as it's a combination of parasailing, wakeboarding, and waterskiing.
Sanur Night Market
Also known as the Sindhu Night Market by regular visitors, the Sanur night market is a small market bustling with delicious food vendors and small stalls. Here, you'll get the chance to try different kinds of traditional Balinese and Indonesian cuisines such as fried noodles and rice, satays from chicken, beef and lamb and the famous Indonesia meatball soup 'Bakso' – all for a really affordable price.
Here are the reasons why you should stay in Sanur instead of the other party beaches of Kuta and Legian as this peaceful seaside town has something for families and lovebirds who wish to have a calmer and more relaxing getaway. Kembali Lagi is an award-winning guest house and villa rental based in Sanur that will get you to some of your favorite spots with ease! Make a reservation and enjoy Sanur with us.